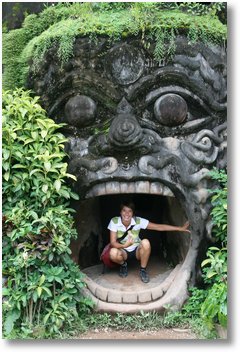 Luang Prabang is very cute and we really enjoyed staying there, visiting the beautiful temples and exploring the town. We rented some bicycles to see some of the countryside just outside of town. It is all very touristy as it is a World Heritage Site and the number one tourist destination of the country. But we heard someone say that some Chinese investors have their eye set on it. They want to build a number of big resorts there, add bridges and roads which will all result in the town inevitably losing its charm and above all its World Heritage status.
From Luang Prabang we flew to the capital Vientiane (pronounced Wieng Chan). It was an early and short flight so we arrived at the hotel before 10 in the morning. Too early to check in so we left our luggage there and went off to explore the town. With around 400.000 souls the town is small and is sometimes referred to as the most laid back capital in the world. We only needed a couple of hours to see all the highlights. We skipped the National Museum only to find out the next day that they had closed it for maintenance for a couple of weeks.. With not much else on our hands, we spent most of our time relaxing, walking around town, going from coffee shop to restaurant and back. It's not a pretty town and looks a little messy. Probably due to the mix of architectural styles which are influenced by Thai, Chinese, US, Soviet and, of course, the French.
Today, on our last day in Laos, we rented motorbikes (again, but this time Miek got her own fully automatic bike!) and drove the 25km South-east to visit the Buddha Park. Some crazy yogi-priest-shaman in 1958 filled a grassy field near the Mekong River with concrete Hindu and Buddhist sculptures. It's a bizarre collection of Buddha and other sculptures but it makes for some nice photographing.