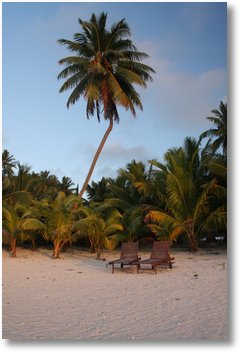 With a surface of 67 square km Rarotonga is already a smallish island, but Aitutaki is even more of a toy island: over 18 km2, in an oblong 2 x 9 km shape. On the east and south sides, the island is surrounded by a lagoon of the brightest shade of turqoise that you´ve ever seen in the sea. Together with the sun and blue skies it creates an image that is normally reserved for extremely expensive travel brochures. Of course they never mention in those brochures that there are a lot of mosquitos around and that you can hardly swim anywhere because of the coral reef and mangrove forests that surround the island. But it looks fantastic… and the weather is good, the ´interior´ of the island consists of rolling green hills with the odd rock, and althought the island has 1800 inhabitants according to our Lonely Planet guide, it is so quiet everywhere that it feels more like 180. All together, this is just the spot to play house for 10 days, which is what we´re doing right now.
We´re in a spacious bungalow on the beach, with a large veranda, a kitchen and two bedrooms. The landlady is 81 years old but looks no more than 70. She has a large garden full of bananas and pawpaws and encourages us to help ourselves. Because there is no public transport on the island, we had rented two bicycles to get around. After three sweaty days of cycling under the burning sun, we decided to trade them in for a proper motorbike. We´re on holiday, after all! And the bicycles only came in two flavours: without brakes or with brakes that would slow you down even as you were pedalling. There are a few shops on the island, but nothing you could call a supermarket. Cooking dinner is a bit of a challenge, as there are very few fresh vegetables available and meat only comes frozen in 2 kilo packages. Our culinary highlight is pasta with tomato sauce from a can, with a fresh onion and capsicum for some vitamines. The New Zealand heritage however ensures availability of decent wine. No complaints there..
We're in the second half of our stay here and we have saved up on a few activities for the coming days: climbing the highest hill (125 meters, wow!) and a lagoon cruise to visit some of the uninhabited islets for some snorkeling. And we will do some more diving. We have been doing that the past two days and it's kind of nice. The diveshop is at the owner's house, we get picked up in the morning by his wife and the distraction comes from their little daughter, an incredibly clever little thing of around 4 years. The dives are pretty cold (my computer once indicated only 24 dgrs!) but fun, with reef sharks, turtles and eagle rays. I could get used to this island life!