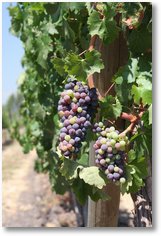 At our bed & breakfast in Valparaíso, Chile, we heard an interesting story about a group of French wine producers visiting the Chilean wine regions. When they were explaining that they were not on holiday but there to find out why French wine is losing so much market share to Chilean wine, an English guy, who overheard it, said: "Excuse me for overhearing but I have a simple explanation for that. When I'm in the supermarket with a bottle of Chilean wine in one hand and a, probably a little more expensive, bottle of French in the other, I'll know that the French wine may be better but the Chilean one has an attractive label which tells where it's from, what grape it is made of and the sort of food I can drink it with. All the information I need while the French label tells me nothing. So why pay more for a wine you know nothing about?". When asked why the French wine producers won't change their labels, they said: "We can't. It's French wine…".
Compared to Amazon city Manaus, Brasilia is quite the opposite. Brazil's capital city is very new (since 1960) and was planned and developed in 1956 with Lúcio Costa as the principal urban planner and Oscar Niemeyer as the principal architect. Looking from above, the main part's shape resembles an airplane. Many of the interesting buildings are from Niemeyer's hand and since most of them are far apart, it's not much fun to walk around. The best way to see them is to go on a city tour. We did that on our first day there, after we went to the Dutch embassy to pick up my new passport (to replace the old one which was basically full). I can highly recommend getting a new passport abroad as the waiting times are non-existent and the costs are the same as at home. And the new one shows as issuer the Consul General in Rio de Janeiro. How cool is that! The tour was fun and the incredibly blue sky with the occasional white cloud made for some great photo shooting.
After a little over one month (more than we originally had planned) in Brazil it was time to move on. In this case; back to Argentina! We had skipped Córdoba and the Mendoza wine region before but we didn't want to miss it. In Córdoba we thought we had a good deal by booking a room in a hostel with, so we thought, our own bath room. Oops.. Shared facilities only and we are not quite used to that. But, no problem, it was only gonna be for a couple of days and the people were very very nice. Albeit very very disorganized. A promise to take us to a gaucho festival some 50 kms up the road, never materialized. First because it was going to rain (it never did, blue skies only) and second because no car was available at the last minute (uuhhh guys, ever heard of planning ahead???). Never mind. José, one of the owners, tried to make up for it by taking us into town on what must have been the weirdest city tour we ever had. Oh well. Ten points for trying!
From Córdoba we took the bus (a 10 hour drive) to Mendoza. Make mental note: next time take the overnight bus as the scenery is quite boring and never changes. The thunderstorms we hit along the way were actually amazing. We managed to live on the wrong time in Mendoza for about 3 days (they're one hour behind Córdoba) which we only realized when we were one hour early for our wine tour.. Mendoza city is nice but small (and luckily not as hot as Córdoba) so you want to spend most of your time there where it matters: wine country! We decided to book a tour to the Uco Valley which is a little further away than most other valleys but very interesting as it is the newest one (some wineries are still being built) and the one where the latest in wine making techniques are being used. We visited three wineries, one of which was the Salentein Bodega, a large Dutch owned bodega. The ultra modern architecture and the use of local materials with the Andes as backdrop makes this a very very beautiful place. We also visited a smaller bodega and another larger one where we had a very nice lunch. All with, of course, some excellent wines. A small detail which made the tour an even better experience was that the tour guide, a young Argentinian woman, spoke perfect English with a very British accent.
One bus trip that you should only do during day time is the one from Mendoza into Chile (or the other way around of course). You cross the Andes and the views are sometimes stunning. It should take around 7 hours but in reality of course it doesn't. Apparently it is 'normal' that you have to wait for a couple of hours at the border crossing. In our case we had to wait for 5 hours… Pffff. And why? We still do not completely get it but the whole process of Argentine & Chilean immigration and customs must be one of the most poorly organized and inefficient ones we have seen anywhere in the world. We heard it can get even worse if there's a holiday on either side of the border.
We arrived shortly after 10 pm at our B&B ( The Yellow House ) in Valparaíso and apparently too late to get something to eat anywhere nearby. Luckily Martin, the owner, was able to knock up a nice dinner for us in no time, free of charge! It's not the first time this happened with guests arriving from Mendoza, he said.. Valparaíso used to be a booming port as it was the most important port for ships rounding Cape Horn. That all ended shortly after the Panama Canal was opened (in 1914) and the decline of the city doesn't appear to have stopped since. UNESCO declared parts of the centre and the famous funiculars a World Heritage Site in 2003 in an attempt to preserve the historic quarter. We did a very interesting and fun city tour with Michael, the "German pirate", who took us to places no commercial tour guide would ever take you. He showed us the insides of private homes and businesses, including a very old liquor factory. Oh, and the ladies accompanying us were fun too; two Americans (65+) who were about to embark on a cruise ship for up to 6 weeks to work as Bridge (the card game) teachers! Wow. Hats off..
Before continuing North we wanted to get to know the Chilean wine region as well. Santiago is right in the middle of the Maipo wine region but we thought it would be fun to rent a car and drive a bit further South to the Colchagua Valley. Having made no reservations at any of the wineries we just drove up to one (Viu Manent) to have a great lunch and by chance ended up at bodega Montgras for a very nice and interesting tour. After checking in to our hotel in Santa Cruz, we walked around town in search of a good place to eat. Again by chance we ended up at Viña la Posada just in time to watch the sun set behind the mountains, slowly making the vineyards change in color, while we enjoyed a drink (Pisco Sour) on their terrace.