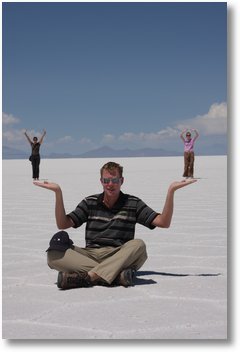 Last Sunday we picked up my girlfriend Karin from Santiago airport. She will be traveling with us to Bolivia! Great fun; she's an experienced traveler, very relaxed and lots of fun so the perfect company on the road. After one day together in Santiago, we flew to Calama, only to discover that although we had a car reservation, Alamo did not have a suitable – 4wd – car for us.
Fortunately there were buses to San Pedro de Atacama, which is where we wanted to go. Instead of driving ourselves around, we took some tours to the Valley of the Moon and the El Tatio Geysers. Great trips, that took us to places we probably would not have found ourselves anyway.
The two short trips were a nice preparation for a three day trip per 4 wheel drive to Uyuni in Bolovia. The scenery was spectacular, the food surprisingly good, accommodation very basic, and the altitude sickness severe (with splitting headaches and a fever). All in all it was a wonderful trip that none of us would have wanted to miss. The destination itself, Uyuni, is an ugly little town with nothing going for it apart from cute hotel rooms with private showers and restaurants that serve lama steak. Fortunately Potosí, where we currently are, looks a lot better on first sight!