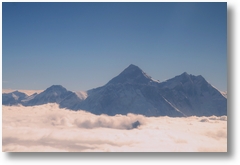 "I think I may be starting to hallucinate. Maybe the lack of oxygen is taking its toll. The start of our ascend to Everest's summit from Base Camp, at 5,357 meters, seems only a short while ago. But it has taken a long time to get up to Camp 5. Maybe we should have taken more time to acclimatize… And the bloody freezing cold… I think I may have lost one of my toes.."
Well, that could have been our story if we had decided to climb up Mount Everest (8850 m). But why bother if you can take a plane up to 24,000 feet and see it while passing by? We are spoiled rotten anyhow so that's exactly what we did.. Besides, we heard that since the Tibettan side of the mountain is closed by the Chinese and all expeditions have moved to the Nepali side, it is so crowded up there that people get in each other's way and sometimes have to wait in the freezing cold for well over an hour before being able to move across step ladders that only allow one person at a time.
Kathmandu is a nice laid back town (700,000 souls) and, after India, an oasis of tranquility. It seems cleaner and the people are definitely more friendly and less aggressive. We had picked up a nasty bacteria in India and the only way to get rid of it was taking a course of C-Flox (a prescription medicine that is easily available over the counter here in any of the pharmacy stalls). So we were taking it easy for a while. We both lost all our energy (and some weight) so we decided to stay a few nights longer in the wonderful Courtyard Hotel. Pujong and Michelle, the Nepali/American owners, have been very helpful and made us feel very much at home… We wandered around town a bit, strolling along endless bazaars, and of course we went to Durbar Square with more than 50 temples and monuments. Not far from there is Kumari Bahal, house of the Living Goddess, home to a young girl who is chosen from a selection of girls of four or five years old, all from the same Buddhist clan. Her feet may never touch the ground and her term as goddess comes to an end when she reaches puberty or otherwise loses blood… More to the east of town are Boudanath, the largest stupa in Nepal, and Pashupatinath, a great temple complex where Shiva is worshipped. The smoke coming from the cremation platforms (or 'barbeques' as Pujong called it) along the river give it a sinister feel. We went sightseeing in the small village of Changu Narayan and the towns Bhaktapur and Patan. Bhaktapur is the former capital of the Kathmandu Valley and now a UNESCO World Heritage Site. It features many nice temples and traditional architecture with a lot of fantastic wood carving.
Our Mountain flight, serviced by Buddha Air in a Beechcraft with 16 window seats, was a bit of a disappointment. Despite the early lift off at 7 am, the Himalayas were covered with a thick blanket of white clouds and only the peaks of the higher mountains were visible. That was nice in itself but it doesn't give you a feel for the grandeur of the mountain range. We know it must be 'awesome' as Haley, an Australian world traveller we met at the hotel and who got lucky only 5 days earlier, so eloquently put it.
Now we are in Pokhara, a 7 hours bus ride West from Kathmandu, a town close to the Anapurna range of mountains. From here you can actually see, usually in the morning when the sky is still clear, the Machhapuchhre, a 6993 m mountain with a remarkable fish-tail shaped peak.