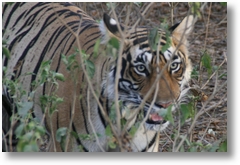 The day after the bombings, all tourist attractions and all shops in Jaipur were closed and the old walled city was inaccessible. You read about bombings almost every day, but somehow they're a lot more worrying when they explode in a place where you were walking around only a few hours earlier. We spent the day buying a train ticket, looking up travel info on the net and actually booking some hotels and our flight to Kathmandu, and reading on the roof terrace. From there, we had a good view of the first ever sandstorm we've been in – very interesting to see the sky turn brown, but not much fun if you're wearing contacts, Erwin found out. The day after, the old city was still closed to all traffic but we were able to visit the 'monkey temple' on the edge of town – not really worth the trouble, however.
Later that day we took a train to the station nearest Ranthambhore National Park, where we were hoping to spot tigers. Unfortunately at the time of booking only non-AC cars were available, so it was not really a comfortable ride. We guessed that all of the seats had been sold out to vendors and beggars of different kinds, because the train was full of them. But at least you have a guaranteed, numbered seat, so I guess the Indian Railways are better than our NS in that respect! The hotel in Sawai Madhopur was quite nice and the manager had arranged two safari trips per jeep (instead of the more widely available buses) for the next day, so the day ended well.
Yesterday morning we were picked up at 6.30 for our first safari. Since we're in India at the end of the dry season the park was very dry and yellowish, but it had some nice views here and there. We saw spotted deer, samba deer, antelopes, monkeys, chipmunks, lots of birds… but no tigers. Disappointment! None of the other cars had seen any tigers either, so that made us feel a little bit better. In the afternoon, we got lucky. After touring through the park for almost two hours with no tigers in sight, we spotted two of them, sleeping in a cave. Apparently they were 2 year old sisters, still considered to be cubs but pretty large nonetheless. After looking at them for a while, one of them woke up and started walking. By now there were a few jeeps watching, and the tigress came really close to some of them! A few minutes later the other tiger woke up as well and went for a similar walk, and we were able to watch either one or the other tiger for quite some time and from a very, very short distance. Very cool!!