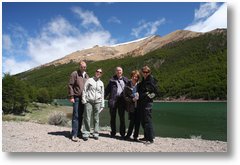 A big advantage of traveling around the world for a year is that you miss all the new movies, which makes the inflight entertainment system on a long flight suddenly immensely interesting. Thanks to LAN (Tahiti – Easter Island and Easter Island – Santiago), we now at least have seen Wall-e, Erwin has seen the latest Batman and I have seen Mamma Mia. That is, neither one of us has seen the end of those last two movies, because the entertainment system broke down… bummer! Oh well, there'll be other long flights, for sure.
On Easter Island or Rapa Nui we've rented a car twice to see all of the moai. We'd seen all of the upright moai on the first day, but not all of them in great light. On the second day we revisited a number of sites in a different order. Because it was a sunny day we were able to take quite a few additional beautiful pictures. Easter Island is definitely an amazing place. Especially the quarry where there are still some 400 statues in different stages of progress, makes you wonder. Each of those statues represents months of work by tens of people; were they working on that many statues at the same time? Why? And why were so many of them never 'sold' or delivered to their ceremonial platforms – did the market for them collapse? And what happened to all of the sculptors when they stopped sculpting? Or what if they'd just finished a statue, and it toppled and broke its nose during transport? That must have been fun after months of work with an entire team… these are all questions that no one can answer. Very frustrating on one hand (I always like to know what's the deal), on the other it's a nice reminder that even today, we can't know everything…
After Easter Island Santiago felt nicely big and busy. It's not a beautiful town in any way, but it is pleasant, with some colonial buildings, a large hill with a cable car and a view of snow-capped mountains and above all, with very many restaurants with good food and cheap liquor. We had already discovered the national cocktail, pisco sour, on Easter Island. In Santiago we noticed how good and cheap Chilean wine is. You can easily order the most expensive bottle in a restaurant, and it will still set you back less than 20 euro. In supermarkets the average bottle sells for around 3 euros, but there is plenty of choice for less than 2. And the local rum is similarly priced! Not that we encourage alcoholism, but we think that an abundance of cheap booze and taxis (which are also a steal in Santiago and they're everywhere) are a big plus for any city.
In Santiago we spent the first four days in a great b&b (Casa Newen, highly recommended). After that, we moved to a centrally located hotel for one night because… my parents and brother with sister-in-law-to-be were going to stay there as well! And not only that, during the next two weeks we will travel to Patagonia together. Last Saturday we picked them up from the airport, and after almost 8 (mum & dad) / more than 10 (brother & girlfriend) months that was extremely cool. The next day we flew to Balmaceda, around 2000 km further south. And it's quiet again! Almost no one lives here, all the mountains are covered in snow and dead trees ("tiny" mistake of the first settlers), pretty yellow flowers, orange berries and red flowering trees grow everywhere along the road. With two sturdy 4-wheel drives we'll tour around this area for the next few days, after which we will fly further south still, on our way to the end of the world…