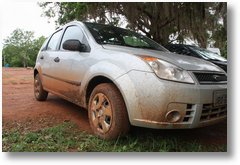 Boy, did we learn a lot in these past few days! I guess you can summarize it all with: if you rent a car in Brazil, get a navigation system, but here's the long version. Last sunday we flew from Rio to Salvador, in Brazil's North East. Hertz had a little Fiesta waiting for us which we wanted to drive that same afternoon to Cachoeira, some 100 km and a 2 hour drive away. If only! Unfortunately we didn't get a road map with the car, but we thought we could make it using our memory of the little map in the Lonely Planet. Not… we went 180 degrees wrong straight from the airport and only found out after 20 kms or so.
By that time we realized that a road map could be a real asset, so we tried to get one at a gas station. And guess what? In Brazil they don't have these little shops at gas stations that sell stuff-that-could-come-in-handy-in-a-car, they only sell candy! After a few stops we finally found our map, we saw where we were and got stuck in traffic on the right road. With the map in hand, we thought we could take a shortcut and shave off 20kms and hopefully lose the traffic. Wrong! It had gotten dark by now (not only is Salvador further east than Rio but for some reason it's also an hour earlier, and it gets dark at 18.30. Not ideal if you're only landing at 17.15…) and the roads are not well lit. And a scale of 1 cm = 14 km is just not good enough to get through the Brazilian villages on the way. And what seems a single road on the map, is in fact not one road at all. And road signs are considered an unneccesary luxury around here. And if you ask someone directions, you get a long story in Portuguese that you don't understand, and the arm movements and sparse 'lefts' and 'rights' that you do get are not enough to find the right way at once…
Anyway, some time later we found the right highway. Everything would get easier now. To begin with, exits are unlit and narrow, so that you basically have to dive through a small hole in the shrubbery if you want to leave the highway. Admittedly, our exit was signposted, but only once, 5 km before the actual exit! You will understand that there were a very experienced driver and copilot at work when I tell you that we actually found the right exit in one go! It took a while before we were sure of that, because the ink black provincial road we ended up at did not have many road signs, either. After this, we only had to pass through a few villages before arriving at Cachoeira. And here, too, we found that there are no signs between the moment you turn off the main road into a village, and the moment you leave the village in a completely different spot. Depending on the size of the village we needed to ask for directions between 3 and 6 times. Apart from communication issues, this meant searching in the dark for someone who looked like they could give directions and also safe enough to stop next to.
After around 4 hours we finally arrived at our hotel in Cachoeira, an old convent, unfortunately still with the spartan type of bed the monks must have slept on once. But the caipirinhas did a lot of good, and the next morning we could see how incredibly cute the town really is. It is worth the trouble so we're glad we took the trip, especially being in Salvador now which has similar colonial houses and churches, but in a much worse state. After spending about an hour in Cachoeira and São Felix (right across the river) we drove on to Lençois, right next to the Chapada Diamantina, a kind of National Park where diamonds once were mined. Lençois is super cute too, albeit a bit more touristy than Cachoeira.
But the real reason for our visit to Lençois was of course a visit to the park. That was on our itinerary for the next day. Unfortunately it had been raining all night and it still was almost constantly during the day. After a muddy – but interesting – visit to a cave with impressive formations we went looking for a cave with nice blue swimming water which, according to the map, would only be 8 or 9 kilometers further down the unpaved road. Unpaved, muddy road. Unpaved, muddy, hilly road. With a small Ford Fiesta with a mini engine. (Which by the way is fueled by alcohol. You can fill it with both alcohol and normal petrol in any kind of mix and it will go! Very special..) Anyway, we almost got stuck in a calf-deep mud pool, and we skidded down a hill backwards later on because we just couldn't climb it. That was the moment Erwin decided it would be better to turn around. If he comes home a little greyer than when he left: it happened then, for sure. Funnily enough we found out a little later that we already had passed the cave we were trying to find, there was no sign…
By now we have returned the car and are 'celebrating' Christmas in Salvador. Very strange indeed! We're not even the only tourists here. It's about time for our daily (re)search for the perfect caipirinha, and after almost 2 weeks I can give you a preliminary score: most caipirinhas are served in a whiskey tumbler, sometimes in a soda glass. Any rumours about having to fix them with brown sugar is a hoax, we haven't seen that at all. No need to crush ice, they come with cubes (or chopped, they don't have cubes very often here). Well shaken with a piece of lime, sugar and definitely don't be shy about adding enough cachaça! Lime is usually cut (in wedges and then cut once more), but in São Paulo they seem to prefer slices, which looks nicer. Cheers and merry Christmas!