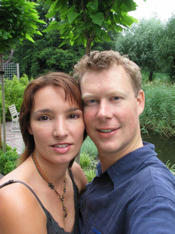 This blog has recorded the adventures of Erwin & Annemieke (Miek) on our
15 month long journey around the globe…
Our journey started on January 1st 2008 and ended 452 days later on March 28th 2009.
Stay tuned for more travel adventures!
Deze weblog deed verslag van de avonturen van Erwin & Annemieke (Miek) gedurende onze 15-maand-lange reis rond de wereld…
Annemieke is tegenwoordig eigenaresse van een marketingbureau dat gespecialiseerd is in zoekmachine marketing. Zij organiseert onder andere Google Adwords Trainingen en Zoekmachine Optimalisatie Trainingen (SEO) en is volgens Google.nl de leukste vrouw in zoekmachineland. Ze beheert daarnaast een stapel andere websites en -pagina's.
Onze reis begon op 1 januari 2008 en eindigde 452 dagen later, op 28 maart 2009.